I. Love. Pillows.
This is not a new obsession. I have had a love affair with throw pillows since I could sew at the age of 5. All of my dolls had hand-made pillows ever before sweet frocks were given to them.
Today I am rekindling my love/obsession/passion for sweet pieces of heaven.
This romantic pillow-cover with ruffled dupioni silk embroidery is quite a lovely addition to a wistful bedroom.
Birds and pillows… kind of a no-brainer. This lovely Chinoiserie throw pillow from Dwell has a sweet graphic without looking too punchy.
Reminiscent of the tchotchke-kitsch of my Grandparents house, this Velvet and Lace round has a vintage feel without the musty colour palette.
The geometric design is toned down with a beautiful mustard colour in this Latham throw pillow from Bliss Home Living. Check out the site for some more fabulous fluffs.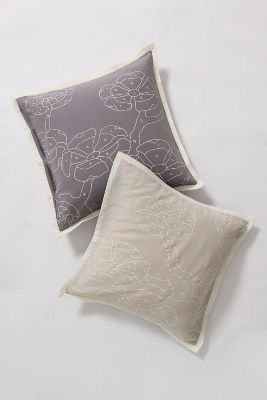 AHH!!! Look at these pillows! Like a paint-by-number, the design on these You & Me Euro Shamscombines numeric and organic lines to give an overall feeling of child-like imagination to the set. I'll be dreaming of these beauties tonight!